ХХ Years for Ukraine — Generation of Republic
ХХ років для України – Покоління Республіки (укр)
Here cherished dreams come true!
Here tomorrow starts!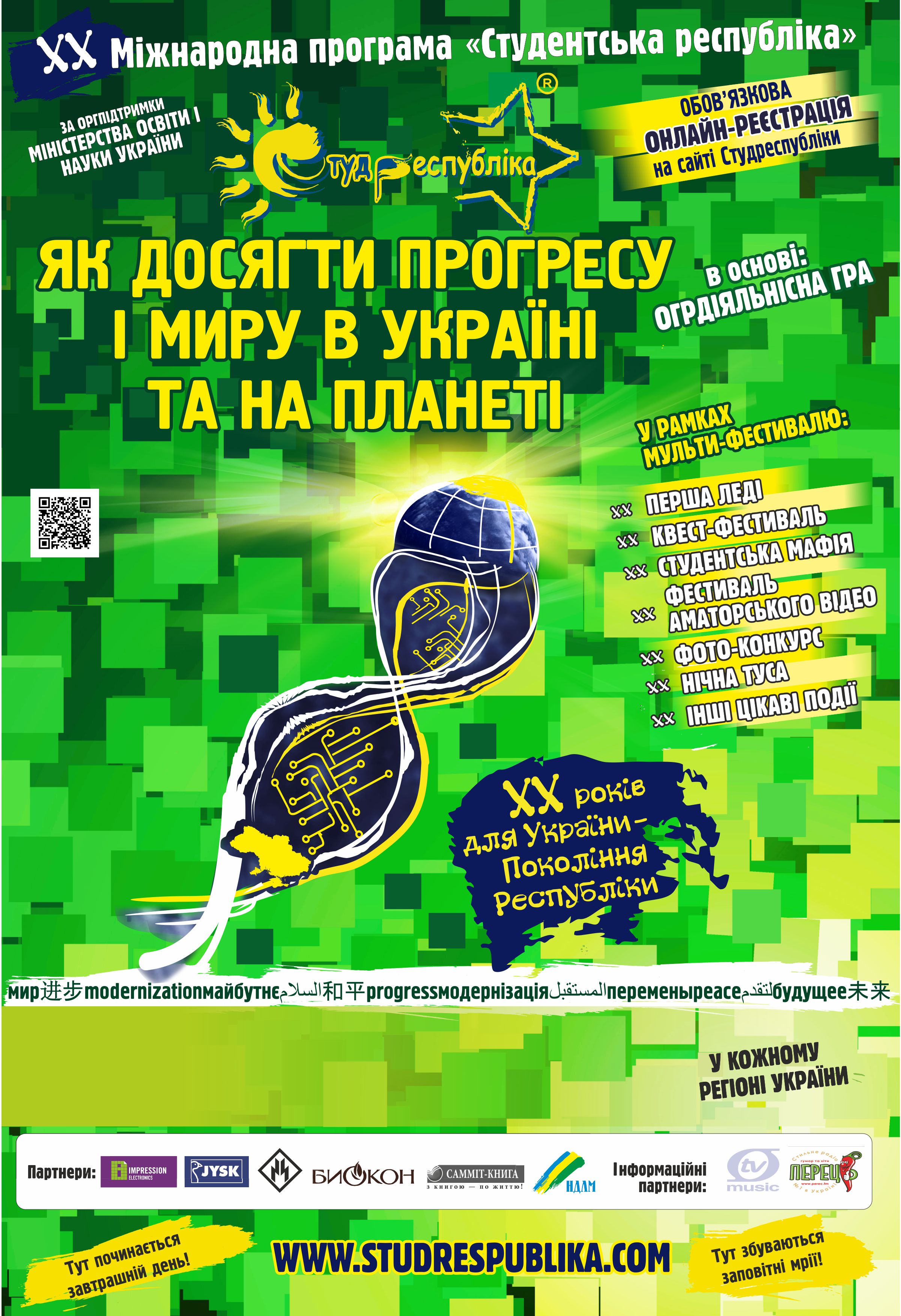 For 20 years Studrespublika has been preparing a generation of conscious citizens and working with the aim for Ukraine to be in top-20 states with a high level of development in the world. Participants and experts develop a program for modernization of the state. This year we have overcome an intellectual-art step, which make us near to decent future of Ukraine because theme of Studrespublika-2018: 'How to make a progress and peace in Ukraine and on the planet'. Join regional stages!
On what day of the summer and at which specific place Studrespublika will be held in your region? How to participate? What will participation in the regional stage bring to each participant? Details of OAG and sub-fests, branded avatars are in an official announcement.
The XX Studrespublika International Program is the largest event for Ukrainian students, which collects the maximum number of young leaders, progressive experts and thinkers from all over Ukraine. Studrespublika have already started to work all over the country: don't miss this event in your region, and if you'd like, go to any of the regional stages, share your own experience and borrow some ideas to modernize your native land.
Schedule and contacts of the regional coordinators of Studrespublika
The theme of the multi-festival at regional level is: 'How to make a progress and peace [of your region]'. War is an everyday instrument again, naked imperialism is not hidden, threat of nuclear conflict, which will destroy the gains of civilization, is more and more, poverty, genocides, epidemics and hunger in the world are not overcome, inequality is increasing, crisis in the economy and ecological problems have became chronic. And Ukraine is at the sad forefront… So, either we try to solve own problems either we will become a demodernized wilderness of the world.
The theme of this year is finalizing of all our work, all games and other projects for all 20 years and is actual and advanced in global position. We note that the preliminary organizational activity games of Studrespublika have formulated two civilian ways of modernization of Ukraine [which means: a) the establishment of a 'normal life';  b) the expansion of freedoms;  c) the implementation of a variety of high-tech, 'new industrialization']: new enlightenment and rational solidarity.
Republicans are ready to responsible work, to save Ukraine, conversion of it to a path of progress and peace! We invite you to join us to become part of the History. It's very easy to do: take part in the regional stage of Studrespublika-2018. For this you need to go a simple online registration on the official website of Studrespublika.
A compulsory online registration for participation is here

At the heart of the Studrespublika there is an organizational activity game, after which the elections for the Student Mayor and deputies of the Student Magistrate will take place. Also, you will be able to take part in the pile of favorite sub-fests: beauty contest of personality First Lady (Persha Lady), Quest Fest, Mafia, Night Tusa, Amateur Video Festival, Photo contest Flash of emotions, Day Tusa, Mr. Studrespublika and many other bright activities.
In a unique discussion-competitive format of OAG, you can directly take part in the development of specific proposals how to keep peace and make progress of your region. The best experts will help as well as conduct electives (lectures, master classes, etc.).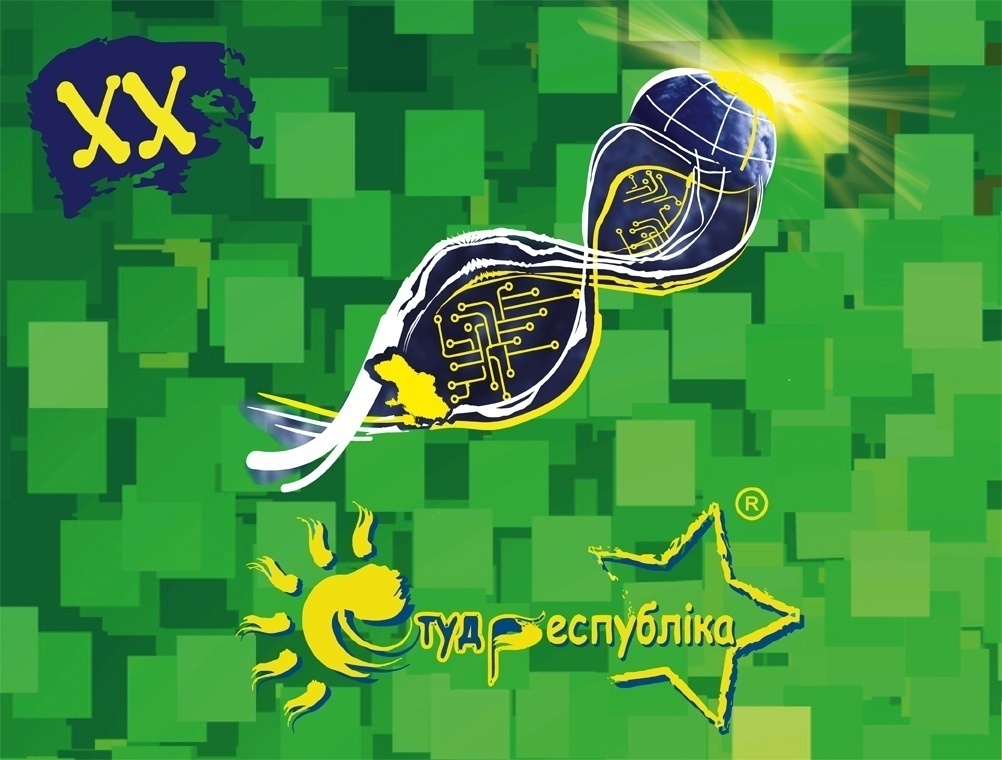 The Generation of Republic will keep together to the Independent Day of Ukraine 24-27 August on the beach of the sea, during the culmination of the year — the jubilee finale of Studrespublika-2018. This year's theme: 'How to make a progress and peace in Ukraine and on the planet' is need a real solidarity — accumulation of forces, knowledge, creativity, experience and skills of republicans of all ages. In addition to working on an alternative agenda for the development of Ukraine and the world, the Student President and deputies of the Student Parliament of Ukraine should be elected among the most intelligent and most talented people in the final.
The multi-festival, the core of which is an organizational activity game, is an open platform for dialogue, deep discussion and extremely interesting activities for 20 years. This is a Ukrainian know-how — an area of ​​freedom and equality, a sunny mood and a guide to the future.
Studrespublika provides the same opportunities for all — take and use them! We believe in a modernized Ukraine, we live and work for that! See you at Studrespublika-2018!
Regulations of Sturespublika-2018 (ukr)
Information contact (044) 529-13-75, office@studrespublika.com.
For media and partnership: brand-manager Vira Andriyuk +38 (097) 883 22 26, brand-manager@studrespublika.com
*  *  *
Organizers: NGO Students' Republic with the organizational support of Ministry of Education and Science of Ukraine.
Partners: Impression, JYSK, Graviton, BIOKON, edition Summit Book, NDLM.
Information partners: TV channel OTV, Stylish Radio Perets FM.
Avatars:
Підпишіться на Телеграм-канал Studrespublika, щоб оперативно отримувати найважливішу інформацію про діяльність Студреспубліки
Автор: Press-service of Studrespublika