Subject of Modernization – the Generation`s Responsibility
Суб'єкт модернізації — відповідальність Покоління (укр)
Here cherished dreams come true!
Here tomorrow starts!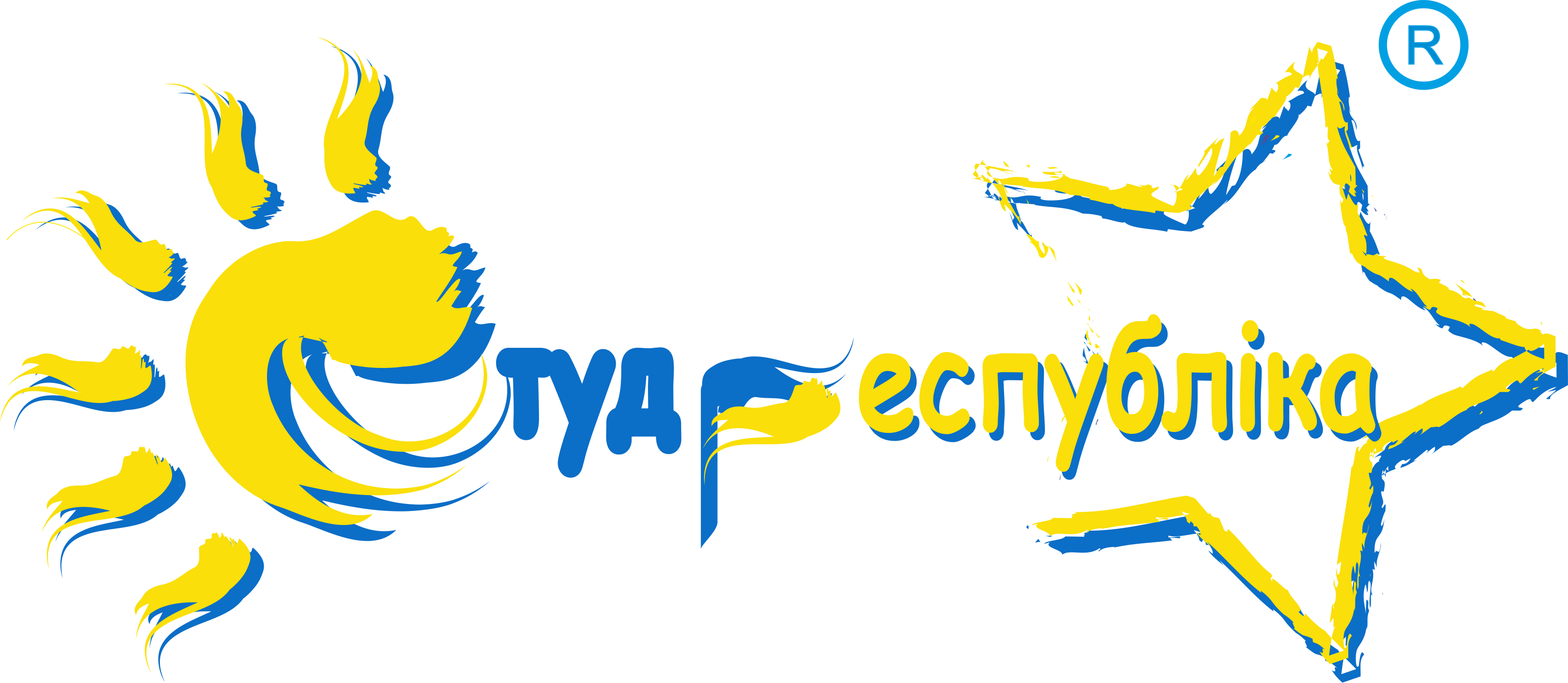 The final of XXI Studrespublika will be held during 23-26 August, 2019 at the bank of the Black sea in Lazurne (Kherson region, Skadovsk district, Prybrezhny). The biggest open space for dialogue, deep discussion and presentation of breaking ideas in Ukraine gathers the most active youth and the most advanced experts for common work on the topic 'Subject of Modernization – the Generation`s Responsibility'. Join! Register online!
The Final of the International Student's Republic program is the most significant annual public event for young people in Ukraine and at the same time the most intellectual one. An improvised 'state' will gather about 700-1000 participants from Ukraine and abroad. Everyone here can discover him/herself, sometimes in quite unusual hypostasis: whether in deep mental work, or in driving sub-fests, which continue non-stop, or communicate with lovely people from all regions. Why should you also become an important part of a great event?
This year`s theme reflects our baggage of developments for 21 years of everyday tireless work and crazy wish for changes: 'Subject of Modernization — the Generation`s Responsibility'. And it`s not a chance – it`s our mission and responsibility!

Studrespublika gave Ukraine a range of people of desire for real changes, people of common welfare capable of painstaking daily work for modernization of Ukraine, of broad and deep thinking, creation of innovations and breaking of stereotypes! Best intellectuals in Ukraine and in the world, active citizens and students, who busily work together on the Future, on Ukraine in top-20 most developed countries in the world, have been joining us during all these years.
But first fair and unprejudiced evaluations, because time of attempts and mistakes cost our people too much. To be called 'new' and to be young doesn`t always mean self-sacrifice for Ukrainian people and movement in direction of progress… Respublika`s experience shows that there are following sources of systemic socially responsible decisions:
science – millenniums of heated discussions, our and other people`s mistakes, negations of negation and complicated, but unstoppable move ahead. Yes, science is not sketches and flouncing around, but formula, intransigent logic and desire of new, desire of something the world has not seen before;

reflexive tradition or institutional memory, when we fix everything clearly and never repeat mistakes instead of chaos;

creative drive and creativity, meaningful passionarity, the will to crush 'that rock' («сю скелю»).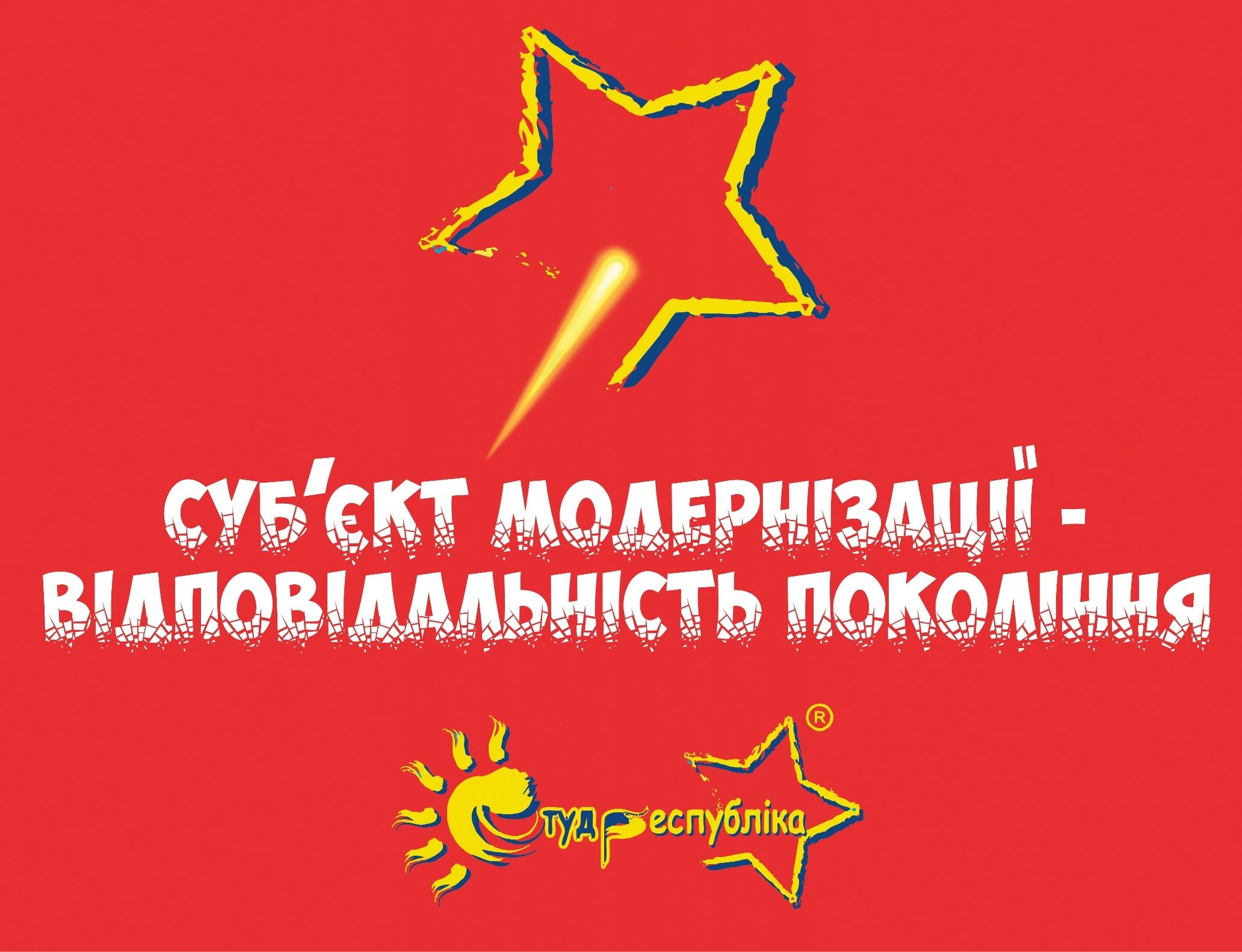 Modernization course involves the resumption of normal human life, establishment of wide range of liberties and embodiment a lot of progressive innovations.
During regional stages of Studrespublika young activists figured out and continue to figure out what is needed to be done in every concrete region to make modernization`s progress constant instead of 'solving' («рєшалово») and the imitation of changes (sometimes very creative).
Studrespublika is exactly for you, if you are ready for dialogue and volunteer work and have original ideas of modernization of Ukraine. It is a unique space where you have an opportunity to fulfill your ideas and social experiments in our unique country in a company of the most prospective young activists. In other words, new format of 'common welfare' based on social solidarity works for us.
The laboratory of the future is open to all desiring truth, progress, solidarity, justice and mutual respect. Studrespublika gives equal opportunities to all. Take and use them in the community of equally bright, clever, creative and hard-working people. Don't lose your chance!
Everything is easy: online-registration at the official site of Studrespublika:

Generation of Respublika will gather to work hand in hand with best experts-intellectuals who will conduct electives and consultations. Among those who we can already announce are: Yevgenia Bilchenko, Georgiy Chizhov, Serhiy Datsyuk, Elena Dorofievska, Maxim Gardus, Dmytro Marunych, Andrii Okara, Fr. Antonii Rudyi, Andrey Yermolaiev and others.
You will meet a powerful organizational activity game on theme 'Subject of Modernization — the Generation`s Responsibility', and after 1,5 days, there will be added the bright multi-festival part. And all this will be in the gaming conditions of an improvised state Students' Republic, which has its own constitution, laws, authorities, parties, currency and territory. The final of Studrespublika will be conceptually contemporized this year.
Thanks to the unique deliberative and competitive format participants will have a possibility to come up with innovations which may appear absurd to somebody, have a discussion, make mistakes, improve and present their improved ideas during organizational and activity game. Studrespublika is a platform where all thoughts are accepted! The winners of the regional Studrespublikas: Students' mayors and deputies of the Student Magistrates, as well as those who have expressed their desire after taking mandatory online-registration on the Studrespublika website will participate in this game.

Important that the characteristic phenomenon of the program is a projection of the future Ukraine. Everything that happens on the Studrespublika definitely reproduces in the state later. This fact imposes a special responsibility on all participants and winners. It is a Ukrainian know-how, the space of freedom and equality, sunny mood and a directory to the future.
Studrespublika always votes for creativity, rhythm and incredible energy. Therefore, rich multi-festival part is waiting for you. There are 20 sub-festivals: Mafia, Amateur Video Festival, Photo contest 'Flash of Emotions', Night Tusa, Day Tusa, KVN Cup, Lesya-Fest, Exter-Fest and many other activities. First Lady (Persha Lady) will be, of course, elected as well as best social musicians at Music Live Awards.
During 3 incredibly rich, semantic and definitely not similar to anything else days you`ll meet time-tested republican friends and gain an opportunity to become a part of real, not fake subject(s) of modernization.
We will change the world, we will defy stereotypes!
The finale of Studrespublika-2018
Avatars:
For information and republican T-shirts: (044) 529-13-75, office@studrespublika.com
For media and partnership: brand-manager Vira Andriyuk: +38 (097) 883 22 26, brand-manager@studrespublika.com
* * *
Organizers: NGO Students' Republic with the organizational support of Ministry of Education and Science of Ukraine, support Ministry of Youth and Sport of Ukraine.
Partners: Kherson Regional State Administration, JYSK, Graviton, BIOKON, edition Summit Book, Impression, SendPulse, NDLM.
Information partners: TV channel OTV, Stylish Radio Perets FM.
Підпишіться на Телеграм-канал Studrespublika, щоб оперативно отримувати найважливішу інформацію про діяльність Студреспубліки
Автор: The Press Office of Studrespublika