Towards to New European Narrative
На шляху до Нового європейського наративу (укр)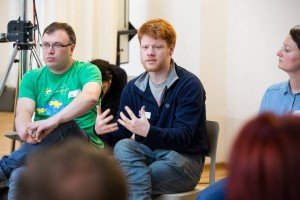 Fabulous women and men from all over Europe as well as from overseas came together in Vienna to discuss and analyze European issues, to identify the blocking and supporting forces, the necessary changes and transformations, to think of resonating arguments and build elements of a new narrative for Europe. It was The New Vienna Congress. Ukraine was represented by The Republican leader Pavlo Viknyanskyy.
In today's Europe, consensus building has become increasingly difficult and ineffective. Lack of alignment is damaging European leadership and diminishing our capacity to solve tough and complex problems. Approximately 20 participants from all Europe and some other countries during special 2,5-day workshop in Vienna worked on New European Narrative (May 5th-7th, 2016).
Europe stands at a critical crossroad. With the economic crisis of 2008, Europe entered a new historical period of economic, societal and psychological instability. These profound challenges are accompanied by political and societal incoherence, status anxiety, and the loss of shared purpose and orientation.
With incoherence comes conflict, and with conflict comes dysfunctional behavior. The Greek debt crunch and the confused handling of the migration crisis uncovered severe divides among European cultural, economic and political elites and in the public. The European Union suffered a severe blow. Europe's cultural and economic identity – not for the first time in its history – is losing its contours. The unity of goals, purpose and effort, built over decades, appears to be severely damaged.
Continuing today's bleak status quo is no option. This crisis requires alternative approaches that are concrete and broadly accessible, that help build a fundamentally different future for Europe's many constituencies.
The New Vienna Congress was for everybody who is interested in a thriving, resilient and purpose-driven Europe: pioneers, change makers, social entrepreneurs, and decision- makers in government, business and the social sector – the next generation of Europeans. They co-created outlines and pointers towards a new consensus on who we want to become as Europeans.
The core idea was to merge modern and very interesting methods and tools of decision-making that have proven effective in the fields of design, urban planning, and systems thinking in order to help carve a new European narrative.
So participants from Ukraine, Ireland, Italy, Germany, Great Britain, Austria, United Arab Emirates, France, Greece, Netherlands, Finland, Belgium, Morocco, Romania and Slovakia discussed the issues Europe is facing.
The first day of the workshop lead from fragmentation to the big picture. Based on the big picture elements of a new narrative were generated on the second day. Participants said about network feature of Europe as the union of cities without border of expansion.
Facilitator of workshop was Harald Katzmair (FASresearch). Project initiated by the Austrian government and organized by the New Vienna Congress Foundation with FASresearch.
Change is always difficult, involves risk and asks us to get out of our comfort zone, but there are fundamental reasons why it's worth the effort to take part in a process of transformation.
Підпишіться на Телеграм-канал Studrespublika, щоб оперативно отримувати найважливішу інформацію про діяльність Студреспубліки
Автор: Pavlo Viknyanskyy