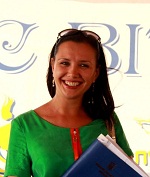 Olha Kovalenko
Was born on August 30, 1987.
Graduated from high school with honors. During studies have repeatedly participated in school Olympiads, conferences, Junior Academy of Sciences (JAS).
Studied at the Faculty of Management (The Academy of Municipal Administration, Kyiv), which graduated with honors, 2004-2009, M.A. During studying held practice in state and local governments; was an active participant in student self-government.
Received functional specialization «Public Administration and Local Self-Government» at the Academy of Municipal Administration, 2009.
Worked as an economist of branch of JSCB «Pravex-Bank», Kyiv, 2007-2008.
Projects Manager All-Ukrainian Non-Governmental Youth Organization «Students' Republic», 2008-till present.
Ph.D., Economics, European University, Kyiv, In-progress.
Member of Youth Council under the Cabinet of Ministers of Ukraine; member of the U.S. Embassy Youth Council, 2012- till present.
Office tel.: +38 044 529 13 75
Mob. +38 067 234 01 94

E-mail o.v.kovalenko@ukr.net
Skype olya.kovalenko